Turn on the light in the hearts of high school students through Katariba class
Katariba's class is a career education program that inspires high school students to think about their careers. Volunteer staff, mainly consisted by college students, have given such opportunities for high school students through individual dialogue to think about their future. (Career education program Katariba)
"I am not good at anything" comments made by 75%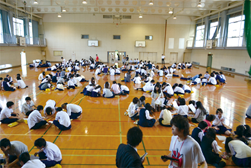 "My skills are below average" -44.3% "I am worried about my future." -71% Students' low self-esteem are illustrated in the answers made by high school students to a survey.
Most high school students do not have opportunities to interact with college students or adults apart from their family. Under such an environment, few students think about their future or career in an active and passionate manner. In Japan, 98% of students enroll high school. If they had a chance to think more passionately about their future and to get encouragement or inspiration for a role model, they should gain more confidence and to actively seek their own career. That was the motivation for creating Katariba classes.
Bring society into classrooms
Each Katariba session consists of 200 to 300 students and twenty to thirty Katariba staff ("cast") will divide them into a few groups. Each session lasts for 100 to 150 minutes and have three segments.
How Katariba class operates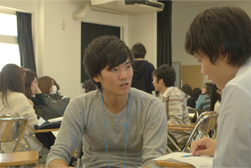 1. Discuss (and understand yourself)
Katariba cast will ask students what they are interested and what kind of concerns they have for the future. By encouraging students to speak out and elaborate on their passion and challenges, we will be able to bring out what their dreams and worries are. This process would facilitate students' understanding of themselves.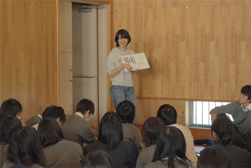 2. Listen (and find a role model)
Katariba cast will make a presentation using a storyboard. They will tell students what they are passionate about at college, their dreams, challenges and mistakes they made in choosing their school/career, any regrets they have from their high school days. Stories Katariba cast share will vary. By listening to the stories shared by the cast, students will gather a better image of who they want to become.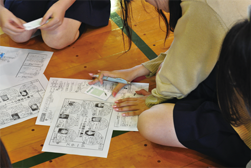 3. Promise (to set a goal)
In order to connect their personal interests, hopes and dreams to a specific action, students are asked to write a small action they can take starting on that day on a small card. By verbalising their goals to a Katariba staff, they will remember the excitement from the Katariba session that will persist.
Fostering "Diagonal relationship"
In order for students to open up and speak out what they really think, it is essential to foster a "diagonal relationship." This relationship can be nurtured with those who are slightly older than the students, not with their parents, teachers or friends. Those young adults can inspire and motivate students.
Encouraging more than 230,000 students
Since its creation in 2015, Katariba has visited about 1,300 schools in 15 years. We have provided Katariba class to 230,000 students. There are about 3.2 million high school students in Japan and we aspire to bring Katariba to all students in Japan.
"By stepping forward, I now have a new dream"
Rin Tatsumoto, first year at high school
Before taking Katariba class, I did not like studying, was a poor dancer, and was not motivated to do anything. No matter how much my mother told me to study, I did not respond and only muttered in my mind (why do I have to study?). That was when I joined Katariba class. Katariba staff accepted me for who I was and gave me some specific advice. "Try my best at my studies and extra-curricular activities just for one week." I still keep that promise I had made on that day. My teachers also recognized how much I changed. I used to give up on my studies without even trying, but I now have a new dream because I stepped forward and studied hard. I will study English harder, and would like to find a career that connects me to the world.
Volunteer staff creates Kattariba session
Katariba classes are organized by volunteer staff (consists mainly of college students) who call themselves "casts." A Katariba class is created by the passion of these casts who face squarely the challenge of doing their utmost for the students.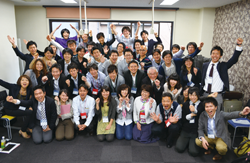 Feedback from high schools
Katariba is often incorporated into career studies or general studies in the curriculum of each high school. We have received various positive feedback from high school teachers, pointing out that students have become more passionate about their career and became more proactive in talking about their future.

Response from students at Suginami Sogo Senior High School
Katariba all over Japan
Katariba first started in the Tokyo Metropolitan area but expanded to 32 prefectures (out of 47). Responding to the request to organize Katariba classes, Katariba has provided various its know-hows through training sessions. In Aomori prefecture, the Board of Education is organizing Katariba classes and in Hyogo, Fukuoka and Hokkaido, local non-profit organizations as well as student bodies are hosting Katariba sessions.